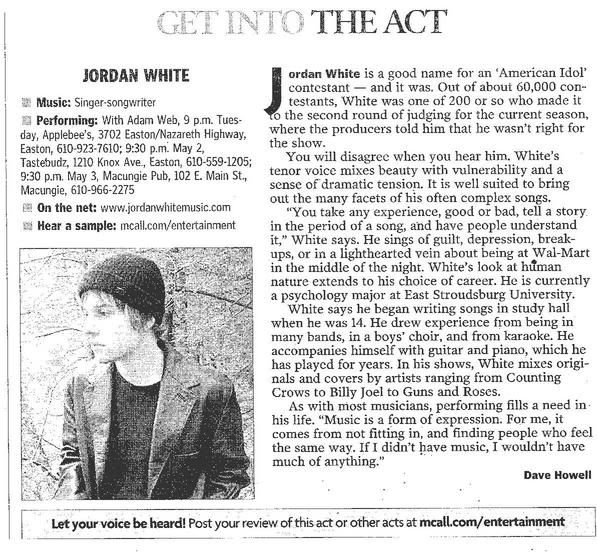 Text:

GET INTO THE ACT
Jordan White is a good name for an 'American Idol' contestant - and it was. Out of about 60,000 contestants, White was one of 200 or so who made it to the second round of judging for the current season, where producers told him he wasn't right for the show.
You will disagree when you hear him. White's tenor voice mixes beauty with vulnerability and a sense of dramatic tension. It is well suited to bring out the many facets of his often complex songs.
"You take any experience, good or bad, tell a story in the period of a song, and have people understand it," White says. He sings of guilt, depression, break-ups, or in a light-hearted vein about being at Wal-Mart in the middle of the night. White's look at human nature extends to his choice of study. He is currently a psychology major at East Stroudsburg University.
White says he began writing songs in study hall when he was 14. He drew experience from being in many bands, in a boys' choir, and from karaoke. He accompanies himself with guitar and piano, which he has played for years. In his shows, White mixes originals and covers by artists ranging from Counting Crows to Billy Joel to Guns and Roses.
As with most musicians, performing fills a need in his life. "Music is a form of expression. For me, it comes from not fitting in, and finding people who feel the same way. If I didn't have music, I wouldn't have much of anything."
- DAVE HOWELL
CLICK HERE TO RETURN TO THE PRESS SECTION